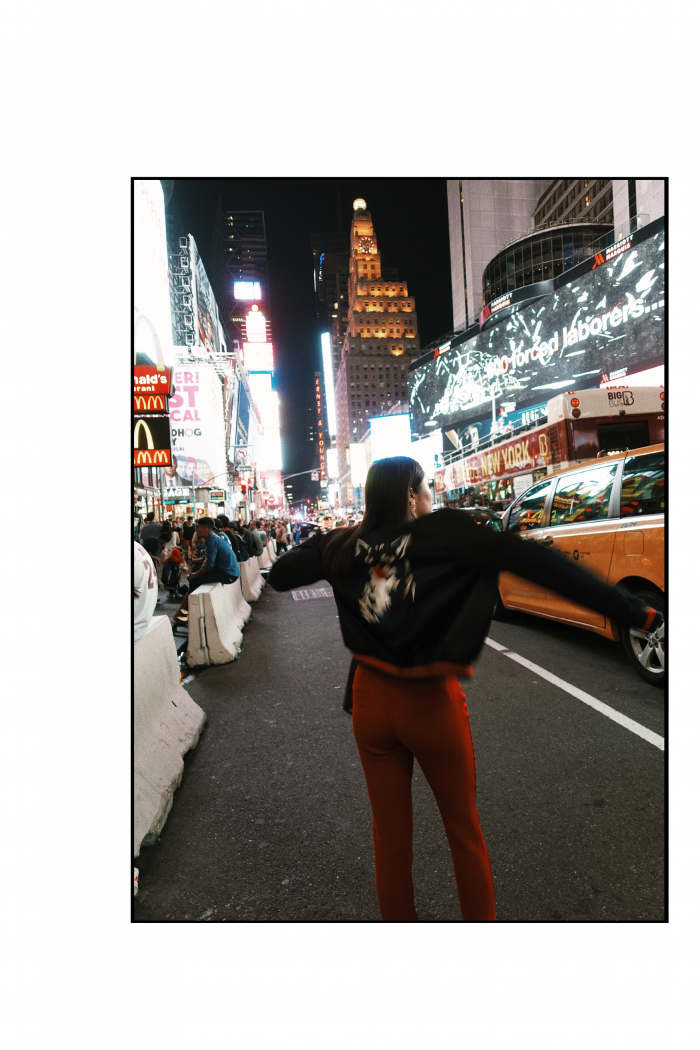 Does magic only happen during the night?
New York City might not be the City of Lights, but to me it is! Well, let me explain it to you. New York is an amazing and large metropolis famous for its energy and vibes that would bring you anywhere amongst many other things, but the big apple by night is definitely something else. It all starts by those burning evenings when the sun slides itself in between the big allées of skyscrapers, gets so hot onto your layers and bedazzles anyone who would dare to look at it. Usually called, sunset situations. The sky becomes truly orange and everybody opposite gets a bloody sanguine tan. It does not happen every day, but when it does you must not miss it.
After mesmerizing sunsets, the lights of the city enlight themselves, one after another, and you start noticing buildings that you have never seen before. By night, Manhattan and its streets offer new dimensions, infinite dimensions with endless possibilities. The city never sleeps – that's a true story. And that's when the magic happens, walking down quiet streets two blocks away from popular bars and restaurants in the village feeling the summer breeze on your skin and appreciate all the neons from the deli corners. Anything would be open, people would talk to you for no reasons and places that you would have never noticed would suddenly appear bringing out some lovely atmosphere like you've had traveled the time. Speaking about time, if you go up a bit, you would end up in Midtown, aka Times Square.
Honestly, I am not a big fan of Times sq but I have to admit it; by night the place is quite impressive. Come on, I never enjoy walking in Midtown surrounded by thousand of crazy busy people including tourists and the whole noise and traffic, however, the massive lights from advertisement screens and the size of these would literally impress anyone (yes, even you and yes, even if you had been there a few times already). It feels weird but it feels good. The energy lifts up your soul and positivity as it would recharge somehow your batteries. That happens…and to me, this is the magic of New York City.
Outfit:
Bomber: Hugo
Bag: Vintage Saint Laurent
Trousers: Vintage Armani from Beacon's Closet  
Loafers: Bally
XX,
Sarah
EnregistrerEnregistrer