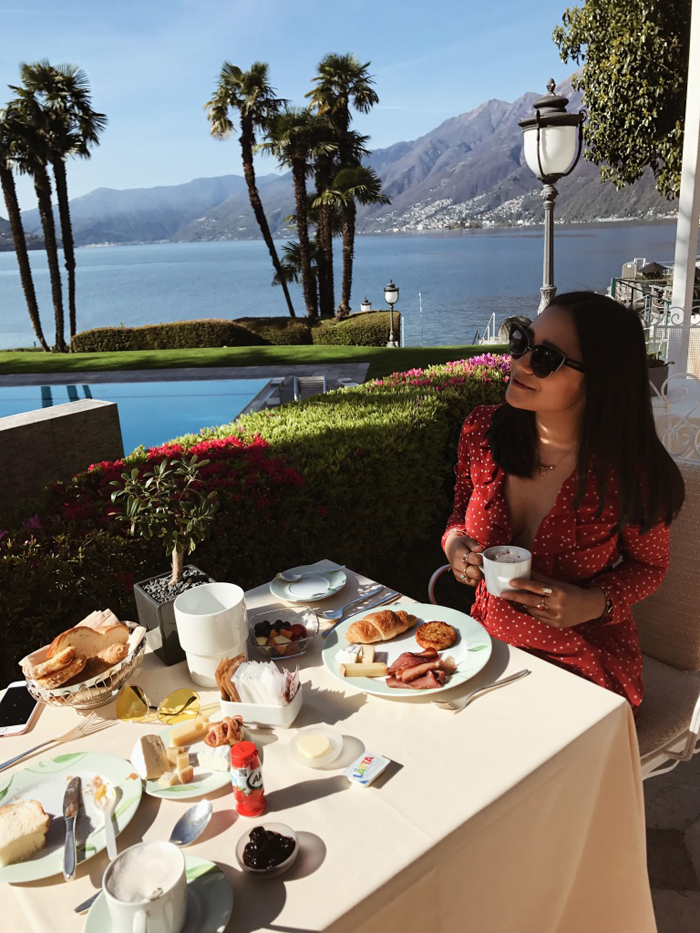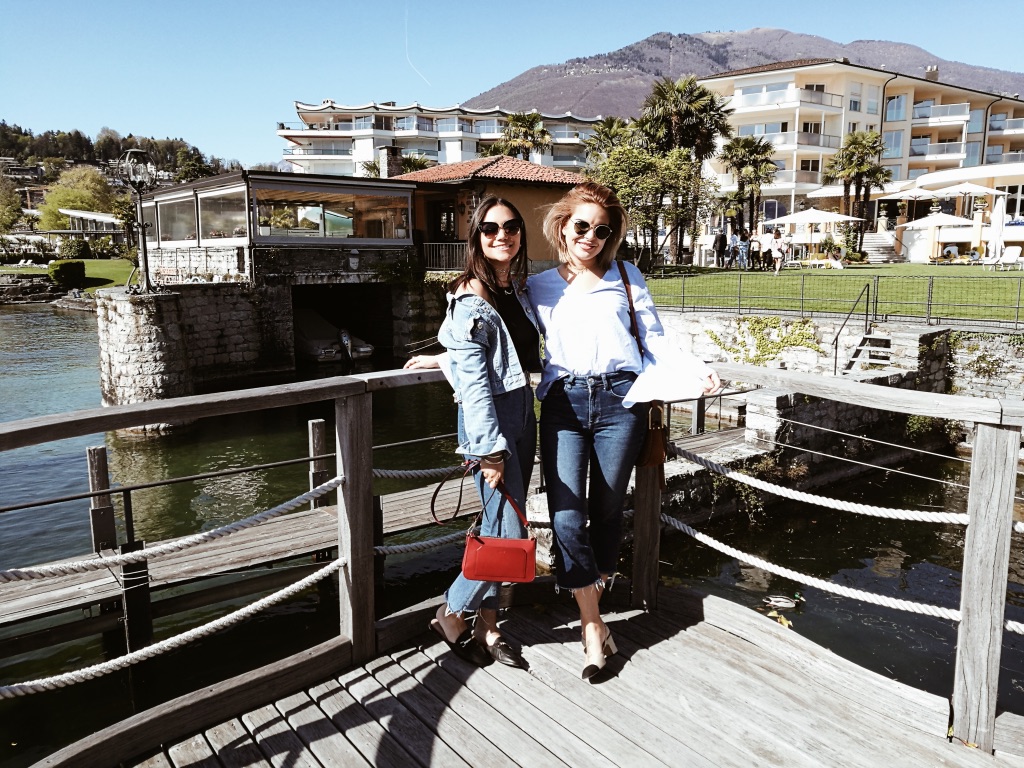 So a month ago I joined my beautiful friend Maya on a two days vacay at the Eden Roc Hotel in Ascona, Ticino. The sun, palm trees, the lake, the warm temperatures and the language – Italian, yes everything is united to make you believe that you are in Italy. Well, Ascona is located in Switzerland at the border of the Italian frontier which makes your stay even better. No need to change money or anything – you're in one of the most beautiful regions of Switzerland. Seriously, the view from the hotel is spectacular. You can read some books and chill out while having literally your bare feet in the Maggiore Lake. The hotel was wonderful! Be ready for a lot of colors and designs from the seventies though. It feels like another world. You can totally immerse yourself in a paradisiac atmosphere where nothing can destabilize your peaceful mind. 
We were a bunch of Swiss bloggers, all united for two days to take over at the Eden Roc in Tessin. I had an amazing time and I'll recommend that excursion to ANYONE going to Ascona over the summer or a weekend. You definitely need to take a boat and visit the Brissago Islands. These two islands are simply gorgeous! The biggest one is actually a botanical garden with more than thousands species – plantsluts be ready to fall in love with the place and take your camera or phone! It was wonderful, we discover plants from flower, trees and of course cactus from all over the world. It's magical. Some told me they organize weddings on the island; I swear it's a dreaming place. 
Another very cool thing was our first dinner at the hotel. We basically had a P-A-R-T-Y in the kitchen of the hotel. I know right?! It was unreal but more than great. We could walk through the kitchen, grab some delicious and freshly prepared food and dance. It was pretty dope! Who wouldn't love tasty Italian food? Also, I had my FAVORITE dessert; crème meringuée au citron. I LOVE IT and they had some – I guess you get how happy I was. :)
For the rest of the stay we mostly hung out, chill out, ate and of course, took pictures. It was a perfect relaxing trip. I went to the spa in the morning.  No gym for me, I rather go for a swim early morning to wake me up and start the day well. 
Outfit Red:
Cap: Big
Dress: Realisation
Bag: Bally
Sneakers: Nike
———————-
Outfit Pink:
Sunnies: Dolce&Gabbana
Romper: Longchamp
Lace-up espadrilles: Havaianas
———————-
Makeup:
Fragrance: Jo Malone London – Rare Tea Collection; Silver Needle Tea 
Anti-aging cream: Estee Lauder – Revitalizing supreme
Foundation, blush & brow gel: MAC Cosmetics
Nude Lipstick: Marc Jacobs
Pictures by Maya
XX,
Sarah