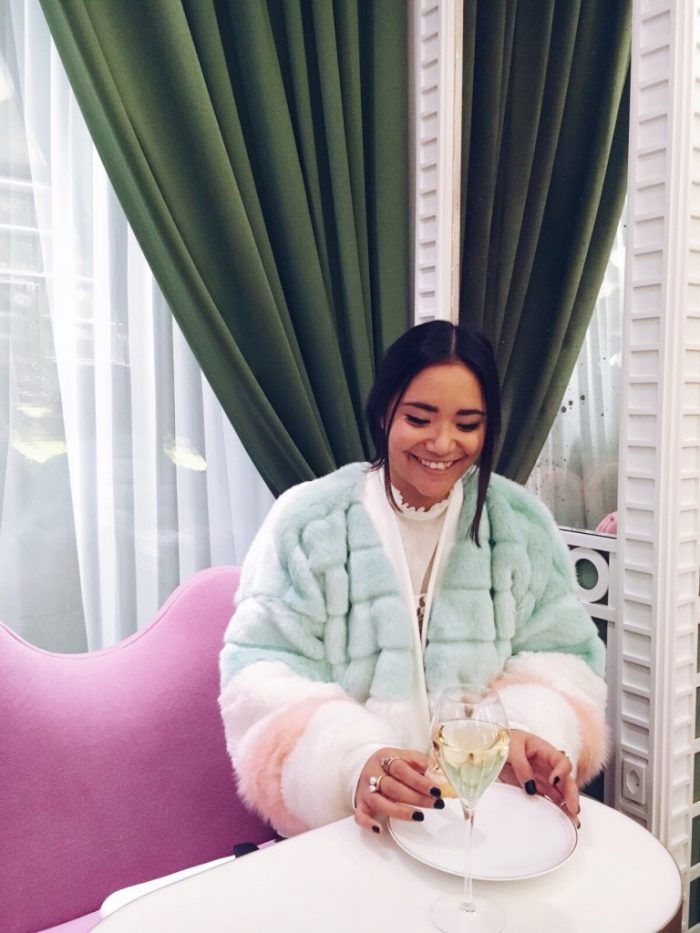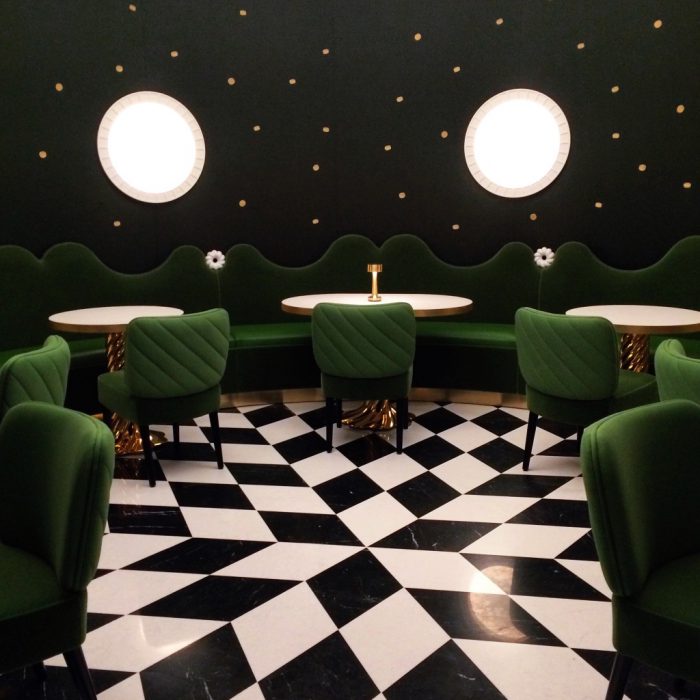 Not long ago I savored a delicious lunch at the new restaurant LaDurée in Geneva. As you know already from blogs, Instagram, and other newspapers, LaDurée just opened a tea-room and restaurant at the Four Season Hôtel des Bergues. The place is simply magical, it is like a fairy tale. The famous designer and architect, India Mahdavi, who also imagined the incredible pink restaurant and bar, Sketch in Mayfair, London, is the one to celebrate for the space. I am a big fan of her work, including the new Valentino showroom, and I couldn't be happier to have such an amazing spot in Geneva. You can eat all day, taste fine food and in the evening enjoy some Dj who will turn up the place – definitely the new place to be in Geneva. 
The combination of velvet and marble is everything. The purple and pastel green colors make me dream and the lovely pouf "Charlotte" created by India is just too cute. In the back of the room you will find the "Salon Etoile", une merveille with dark green velvet furniture and little gold macarons encrusted on the paper wall. You can privatize the salon and enjoy it fully. I had lunch there, in the Salon Etoile, with my beloved friend Daniela, where I could degust a delightful foie gras as a starter, followed by the Maison's specialty; vol-au-vent with mushrooms. Isn't it super French though? ;) Needless to say that I loved every single bite. Daniela had a poached egg with avocado, who does not love avocados?! That's what I thought. And a white omelet with vegetables as the main course. Then, came the desserts made by Claire Heitzler, the Head Chef of Patisserie Creation. A little bûche for the winter season with red berries mousse and a super-cute snowflake (a coconut dacquoise filled with mango cream, vanilla pineapple brunoise, and coco mousse). Yummyy, Right?! These are exclusively for the holidays season and you need to try them. 
If you are in Geneva, I highly recommend you to pass by and if you have no time to properly sit for lunch, stop by and enjoy a lovely afternoon tea, they have plenty of choices including pastries and macarons. And you know, I love the design so I am sure you'll love it too :). 
Outfit:
Faux fur Jacket: The Design Studio
Bag: Vintage Gucci
XX
Sarah