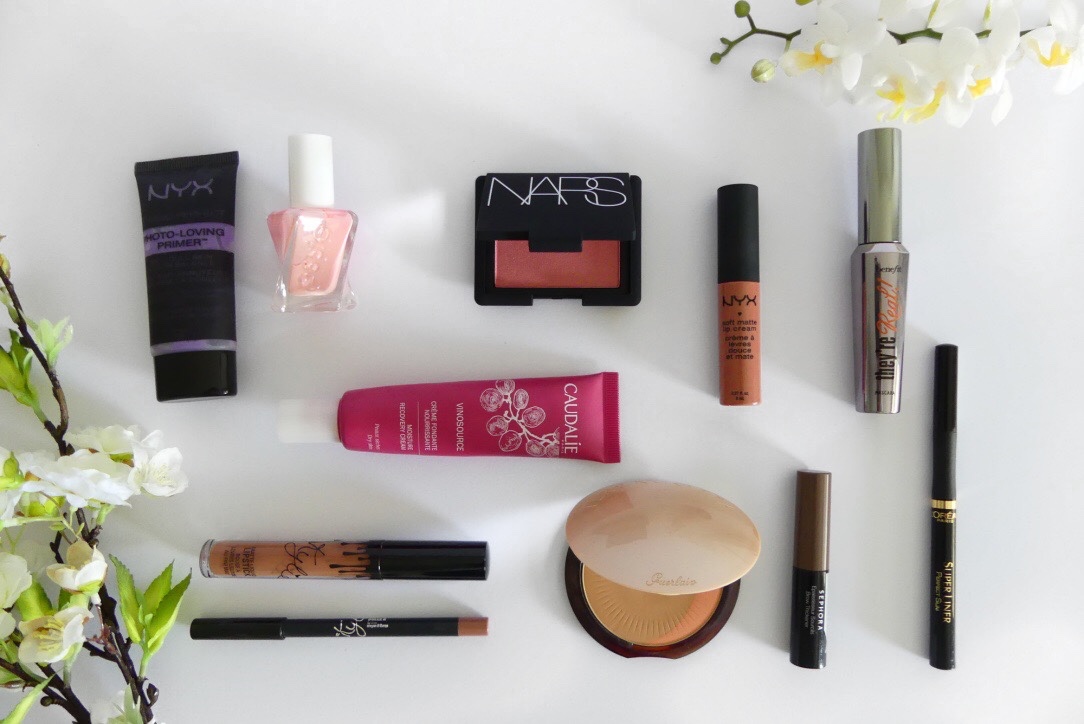 It is summer time and I totally go for nude colors. I mean nobody needs to wear as much as makeup as in winter, right? Light makeup is the best, and especially during summer; I believe that the tan is like a first layer. Here are my everyday go to makeup:
CAUDALIE – Vinosource Moisture: fresh moisture for dry skin. It is a recovery cream that I apply in the morning and in the evening after cleaning my skin. Not too thick neither oily as are usually dry skin creams. Love using it and its smell is fruity, from the red grapes I guess.
NYX – Photo Loving Primer: the purple cream has a brightening effect. Needs to be applied before any foundation. It glows the skin and makes the perfect tan, I swear.
Guerlain – Terracotta Joli Teint: if you don't know the terracotta from Guerlain, so you should definitely try it. The powder offers an incredible and light bronze tan mixed with pink blush. Plus, any time you open the face powder it seems like we are off to holidays. It smells vacation, summertime, and pampering.
NARS – Orgasm: talking about blush, the NARS orgasm – is it really the name of the pink blush? Anyway, the blush is super-cute and the shiny light color makes it the great summerish blush. I mean nobody wants to be too pink on the cheeks.
SEPHORA – Brow: I think that good eyebrow changes everything to your face. To your look, and they need to be perfect. I recently discovered the crazy brow thickener from Sephora and I fell in love with. So easy to apply, look natural and the result is awesome!
L'Oréal – Super Liner: L'Oréal Paris eyeliner is simple to apply with its stylo brush. Those felt-tip liquid eyeliner pen are so easy to use daily and quickly. The pen is precise and stays intense for a long time. No joke in here, I love that eyeliner.
Benefit – They're Real: Okay, so I usual mixed up different mascaras, different layers, and different types, but since I tried that Benefit one I just use this one.
Kylie Lipstick – Dolce K: Nude brown lips are so pretty and trendy. Kylie Jenner matte lipsticks are so amazing. The colors are good, I also bought Exposed, the lip liner is simple to use, it just gets consumed very quickly. The lipstick smells kinda caramel, which I don't particular like, but one layer is enough and stays forever. I love wearing them and cannot wait to try other from Kylie's collection.
Essie – Couture Curator: I love Essie nail polish. The important thing with polish is first, their color, and second their brush. If the brush is the nail polish. Essie is my favorite brands for nails and their nude gel couture is sumptuous, not even talking about the coolest bottle. Such a cute rose-bonbon!