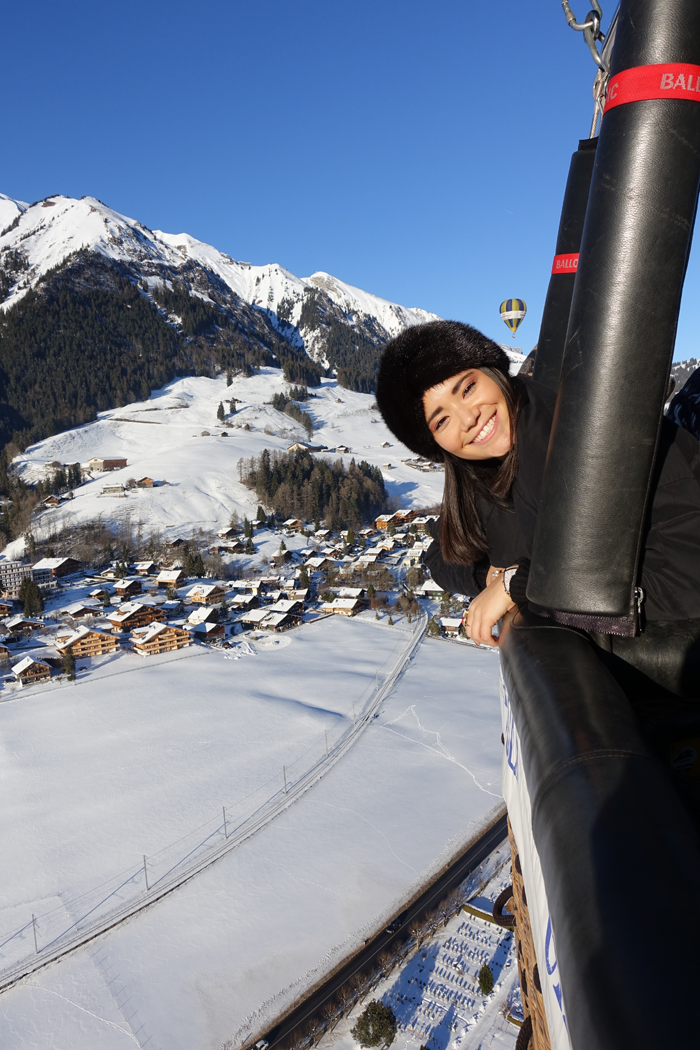 WHAT A PARMIGIANI FLIGHT IN HOT AIR BALLOON!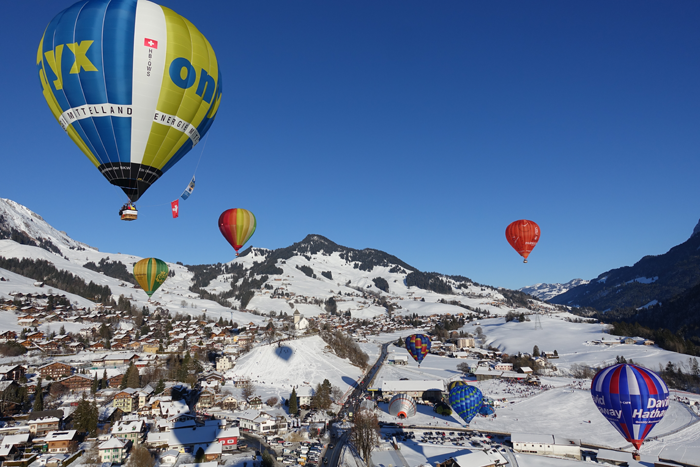 What a weekend in Gstaad and Château-d'Oex! Look at these colorful balloons flying smoothly in the sky. I had never been either to Château-d'Oex before or flown in hot air balloons. I was just bursting with excitement. It was the perfect day and weather conditions for an hour – way too short in my opinion, to fly over Swiss mountains. Hopefully, the snow had fallen a few days before in order to offer us an amazingly sunny and cold day – the kind of winter day that I LOVE; sunny, dry air and no wind.
The international festival of hot air balloons happens once a year, and it was the first time I ever attended. Thanks to the incredible team from Parmigiani Fleurier – sponsor of the event, I had the chance to fly and spend an amazing weekend with my dearest friend Daniela Alves. It was just wonderful to see all those colors in the blue sky surrounded by snow. We first had an amazing lunch in the VIP Parmigiani Fleurier tent in order to get fuel before the flight. On the menu; foie gras as an appetizer, followed by rose-beef and little rösti fruits and a delicious pannacotta with mango.
After savoring the delight food it was quickly time to fly. The level of excitement was high. We were separated into few groups, naturally, we could not go all in the same balloon. You might know it or not (I did not), each balloon has a wicker basket where passengers get in. The capsule has a quite large compartment in the middle for its pilot and the gas cylinders, which is surrounded by four smaller spaces for the passengers themselves. The compartments are spacious and you can easily walk in to enjoy every angle of the view. When the stress of the departure passed by, the most surprising thing was how smooth and gentle the flight was. Almost silent, only the noise of the open flame was quite strong and a bit scary sometimes. Our flight lasted one hour, but it seriously felt like 20 minutes to me. We did not fly that high, I wish we did, though, to get more heights and lose some relief, but it was any way magical. We were with a Belgian team – really (really) cool and funny people. When the pilot decided to land where he wanted to, he did it simply and smoothly. After getting the material in order we even had a few shots of liquors – what cool peep! :) 
It was just wonderful. I could not be more thankful to Parmigiani Fleurier's great team for this beautiful experience. If you have the opportunity to fly in hot air balloon once just go for it, you won't regret it. 
Outfit:
Chapka: Vintage
Down jacket: Mango
Turtleneck: Hallhuber
Watch: Parmigiani Fleurier – Kalparisma Nova
Skinny jeans: Rag & Bone
Boots: Inuikii
Pictures by Daniela Alves & Me
What an incredible day! Super happy faces with Daniela on the way back to Gstaad. 
XX
Sarah