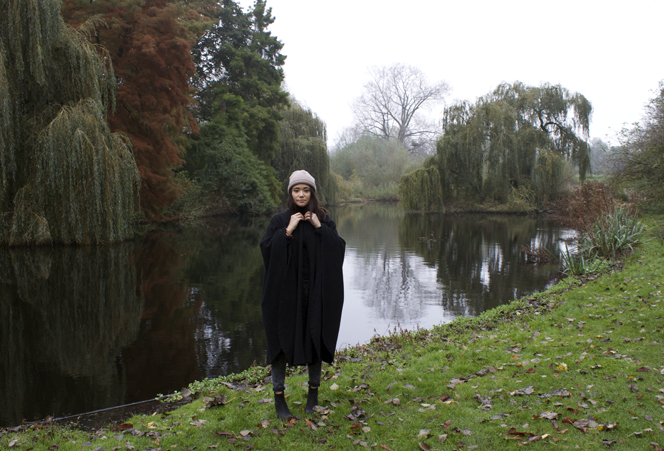 Black Cape in Vondelpark
While having fun in Amsterdam, driving like crazy my rented bike all around the city, I stopped by the very british styled Vondelpark.  It was one of this cold & grey atmosphere. I thought, I would have needed some gloves while running in town, but actually, I just adapted myself and tried to be like a native one, which means; driving while holding an umbrella, no gloves (freezing our butts off), some grocery bags and maybe add a kid or a dog on a basket..hahah, and there is still the traffic to be aware of. Driving without gloves was hard enough for me ;). 
All black, as always. 
Firstly, it's way too cool, I felt like Severus Snape (Severus Rogue in French) – a J.K. Rowling's character from Harry Potter – Common you recognized me! Ahaha
No, more seriously, I bought the cape at Moo!Zo, a Second-Hand Shop in Amsterdam. I was searching for the right one, but couldn't find it. I like this one, pretty wide, no sleeves but still a good cut in order to have the possibility of using my arms.. okay I'm joking, but I do like the cut! Looking forward to mix it with other ensembles!