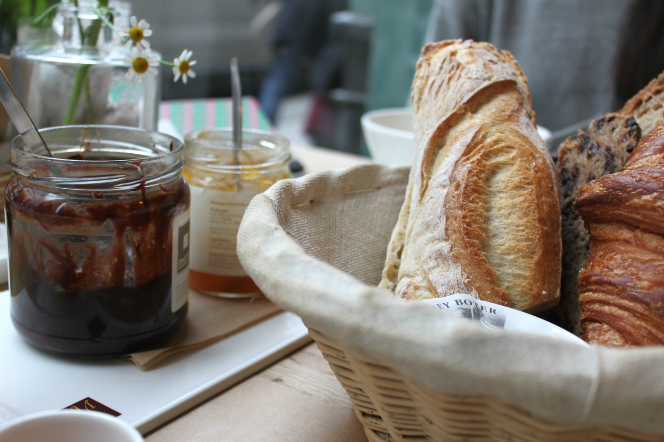 My Tips for exploring the fantastic city of Amsterdam! Wanna bite something in a cosy and stylish place? Here there are a lot of different coffees, bars, restaurants or concept store that I recommend! Enjoy :)
Vlaamsch Broodhuys; Such a lovely bakery, where you can sit and having breakfast, tea, or even lunch. It is totally cosy and you feel definitely like home. The staff is young, kinda hipster vibes and very nice! This place is perfect for having breakfast. They have these huge one, you can easily split the portion and still eat like a pig. Their products are just delicious and everything is tasty! The thing you need to try is their chocolate dough, they didn't try to copy Nutella, they just made their own and its way better! It tastes like when I'm baking some chocolate Fondant before separating the dough in different cake pans, the dough is kind of liquid and the taste is just incredible (before cooking). Lovely place, tasty products & great staff!


And of course, their salads (here, goat cheese on slices of fig bread) are as good as their breakfasts! The raspberry tart was, what could I say, very very very good? No kidding delicious! 
Vlaamsch Broodhuys is definitely an address to stop by while visiting the capital!  Vizelstraat
109, 1017 HH
Amsterdam
Back to Black; a lovely coffee house where you can find some really good (and also pretty heavy hihi) pastry! Nice place for chilling or working while savoring a coffee and their delicious apple pie… and please ask or accept gently the supplement of whipped cream!!! ;) 
The deco and the atmosphere make you wanna come back and enjoy another moment in the coffee. Good design, I directly felt in love with it! You don't want to miss it! :D
Weteringstraat
48, 1017SP
Amsertdam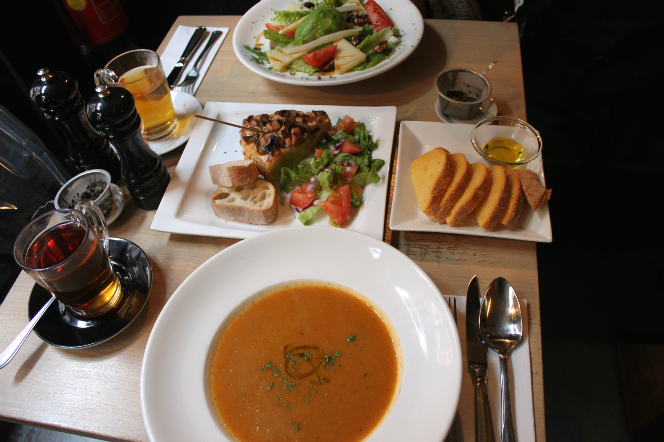 La Oliva; A spanish restaurant in heart of Jordaan, a very nice neighborhood to walk in and discover. We went to the restaurant for a late lunch, only one tortilla left, but it was good enough next the my seasonal vegetables soupe :)! Nice ambiance and tasty food is to experience at La Oliva, try their tortillas, you won't regret it! 
Eglantiersstraat,
 122-124, 1015PR
Amsterdam
Tashi Deleg; Change of scenery for a dinner at the Tibetan and Indonesian restaurant on the famous UtrechstesStreet. The momo, which are the dumplings on the first picture, were delicious and reminded me my trip to Nepal. They were as good as I could have tasted back in Kathmandu or in the Lamjung District. Plate with beef or chicken, mixed with vegetables in different curry sauces, plus, some rice as main dishes. Very happy that we ate there, so much memories back in my head! :) 
Utrechtsesstraat,
 65 1017VJ,
 Amsterdam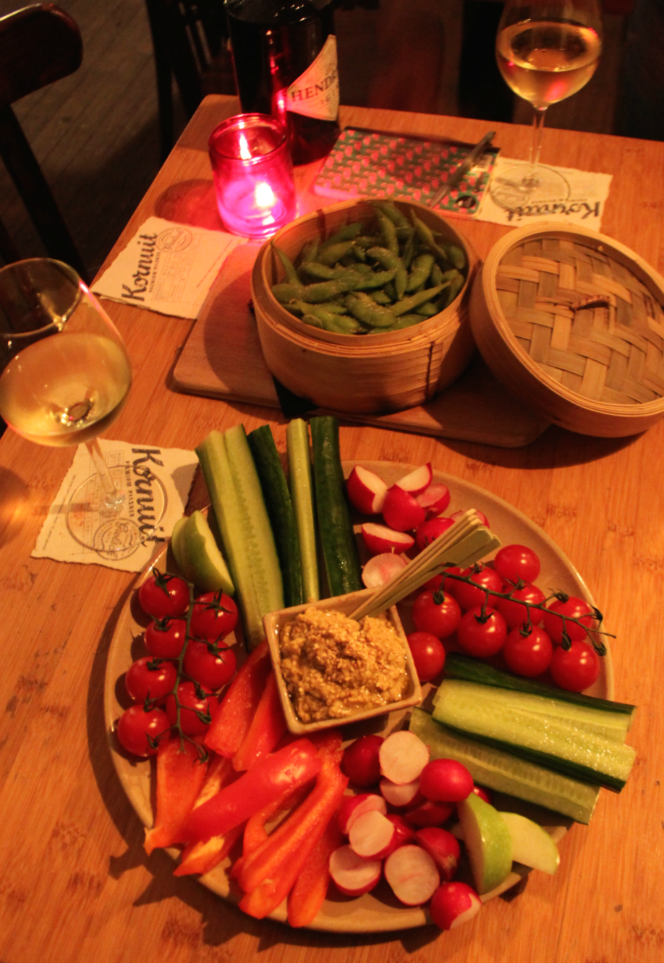 Huyschkaemer; A nice coffee/bar for having drinks for hours. Still  on the UtreschtesStreet, the bar is very designed and of course no pictures allowed, but I had to take at least our "dinner" after having a few glasses of vine in picture.  Edamame beans and plate of vegetables with sesame humus – the dream! The bar is cosy, to too crowded and you really feel like home! 
Utrechtsesstraat,
 137 1017VM,
 Amsterdam
STACH; this is an healthy and incredible foodie shop, around different corners in the city. Late opened by night, you can find some brownies, breads, seeds, smoothies, drinks, whatever you're dreaming of (in way of nutriment)! Healthy, Hipster and well designed welcome to Stach! Have fun discovering this unusual shop! :) 
Ask for Stach, just around the corner
CAFÈ Toussaint; Just stopped by for drinking a fresh mint tea after
exploring the city in bike (meaning= freezing). It is a charmed restaurant,
very cosy it reminds me the Café Grancy, back in my home town (Lausanne) in
Switzerland. Having lunch, dinner, or stop for a while in order to read a book,
you definitely feel like home, in one of the most beautiful neighborhood
of the capital, you need to come by! 
Bosboom Toussaintstraat,
 26 1054AS,
Amsterdam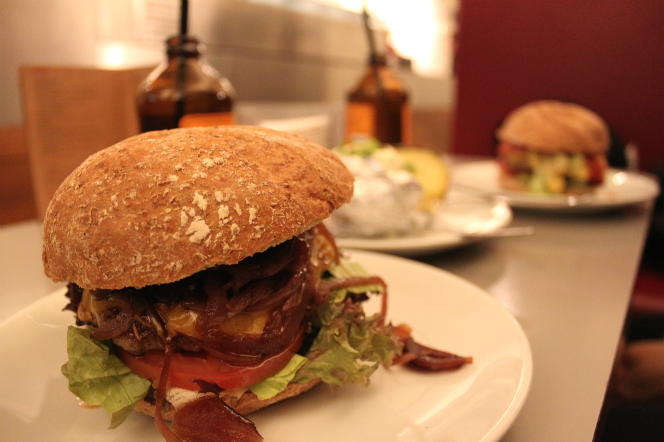 Burgermeester; well after struggling finding
this incredible Burger kinda fastfood restaurant, I ate one of the best burger
ever! Lamb, with compote oignions in a special sauce, I couldn't tell you
more, because it won't make sense until you try it! Don't take fries, I guess
it's not even on their menu (ps: the big potato is aweeesommee, just as
the ginger beer alcool free!)
Anyway, go there, try it, and
enjoy! ;)
Albert Cuypstraat,
 48 1072CV,
Amsterdam
K0K0 Coffee & Design; My dream place – Coffee house / Concept Store – cappuccinos, good music, perfect design and nordic labels. Plus, you can have coco cappuccino, or whatever coco! Yummmyy! No kidding, this place is a great place to chill, to shop, to hang out or just having a good coffee. Love love love it! 
  Oudezijds Achterburgwal,
145 1012DG,
 Amsterdam