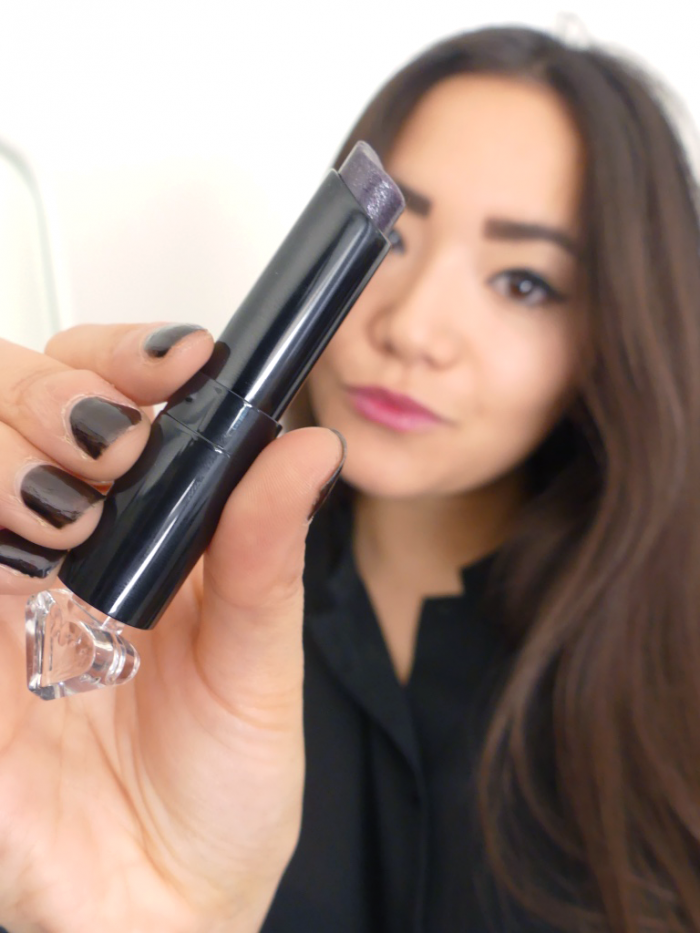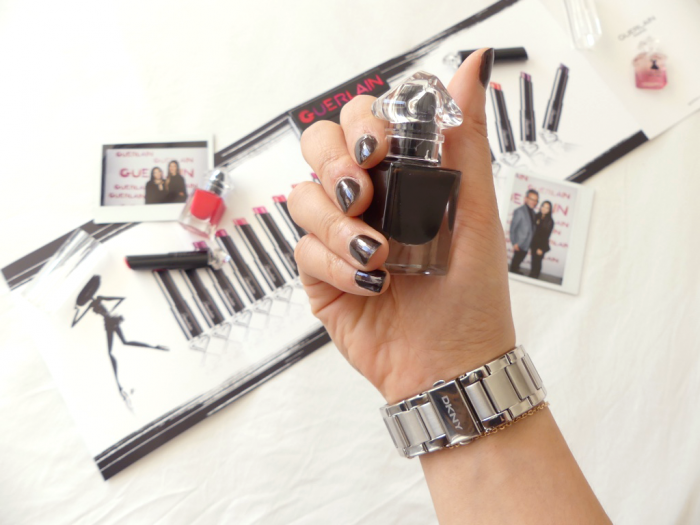 They are finally out! I have been waiting for sharing them for two weeks now. I don't know if you are familiar with Guerlain, the oldest French Maison of perfume and cosmetics. If you are, I am sure that you know the famous fragrance, La Petite Robe Noire. I never wear it, but I always recognize its fresh scent of rose and cherry. Very glamorous and elegant at the same time I love walking by and totally appreciate when someone is wearing  La Petite Robe Noire. 
A few products like shower gel and cremes issued from the delicate scent are already available. But for first time, Guerlain offers a cosmetics line for younger women who might, or not, be addicted to the perfume. It's fresh, girly, shiny and very glamorous! I have tested some of the products, from lipsticks to nail polishes. You can find the same colors for either your lips or your nails for matching or dis-matching. I think its fun to play with lips and nails.
I tried on first, the Black Perfecto nail polish. I like either a red red on my nails, or dark ones, such as black, purple, braun. The Black Perfecto is not 100% black, it has some braunish/pruple reflects with discreet glitters that makes it very special. Plus, when it gets dry on your nails, you can smell the perfume. Don't go too crazy though. I thought that the scent would smell while applying it, rather than the chemical nail polish one, but no… it's only when it gets dry. 
When I wanted to try the Black Perfecto lipstick I got afraid. I don't want to be gothic now… But I can assure you that no one will get this dark metal/gothic lips style. The Black Perfecto is glossy and shiny, again with unobtrusive glitters. During the first application, your lips will be a little bit shiny and very smoothly darker. The more you will apply the lipstick the more it will get "black perfecto". The interesting thing is that usually I am totally into mate lipstick. I am not very shiny glossy ones, but something happened with this one. I fell in love. Plus, glossy lips care make your lips seem like bigger or thicker, if you desire a natural effect ;). Anyway there are a bunch of other colors. I also enjoy wearing the Red Heel nail polish or rouge à lèvre, since it represents for me, a deep red for sophisticated women.
Outfit:
Cosmetics: Guerlain
Blouse: H&M