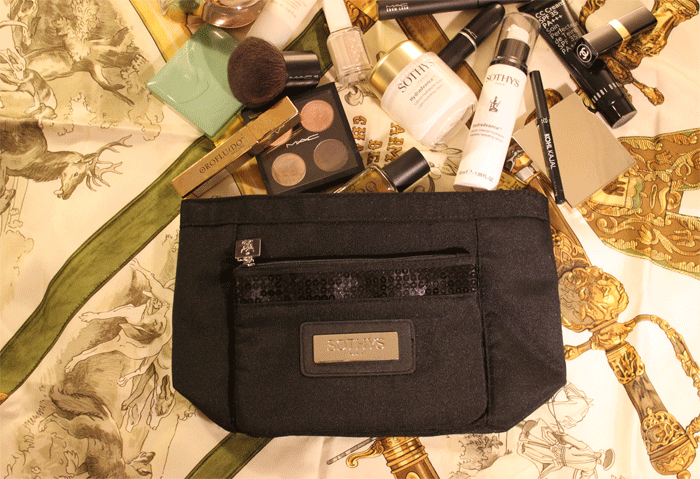 Here I go
with my first official Gif about my essentials beauty. Please, be nice with me,
and try to tolerate my Gif…(hihih thank you in advance!) I wanted to share with
you my daily products or cosmetics for a while but I've never found the time. So,
for the first time I'll talk about my essentials, from creams, to foundation
passing by perfume.
Sothys: I
apply twice a day this Intensive hydrating serum. After removing my
make-up/cleaning my face, I apply the serum. It is great because it gives to my
skin enough hydration. After showering I usually have the feeling that my face
is stretching, so I directly apply the serum and feel really good.
Sothys: It
is now a very good habit that I have to put my Light hydrating cream everyday
after the serum. I wait some time, in order to allow the serum to penetrate
into my skin very well, and then, I apply my daily cream. This cream is the
perfect one, smells good, hydrate as just as I need and doesn't create an oily
skin! (I hate those creams!). I don't use Sothys for a long time, but I'm
hundred percent happy that I changed for their good quality products.
Orofluido: Time to time I like to use the beauty elixir for my hair, in order to give them
some radiance. Made of organic natural oils it smells really good, an amber
fragrance with some vanilla. After applying the elixir, the hair are shining
and they are easy to style.
Orofluido: The
mascara from Orofluido is so funny, by funny I mean that it has in itself a
small lamp torch, in order to see correctly how you apply it. I guess they imagine
the mascara for all situations, funny isn't it? I like to apply this one first;
its small brush allows my eyelashes to expand themselves.
Roger
Gallet: I always have dry hands, so I need my lemon "Cédrat" hand cream with
me. Sometimes I just want to put some cream just for the incredible good smell
of it..hihih.
Bobbi
Brown: After the serum and the daily cream from Sothys, I put some foundation,
my CC cream from Bobbi Brown. Plus, I have the sign SPF 35, which means that it
protects me from too much UV radiations…, as if, I need that over here in
Switzerland, with this pouring rain all day everyday. Anyways, this CC cream is
a really good one, makes a radiant complexion and you can not see it as pure
and heavy foundation.
Mac: The
other mascara that I use is from Mac. At the opposite of the Orofluido, that
one has a big brush, which gives my eyelashes an incredible volume!
Mac: This
nude palette is perfect to me, sober and not too shiny. I like the fourth
different colours – very natural. I use it as my daily eyeshadow palette.
Mac: This
lipstick Mac Ruby Woo is the perfect Red lipstick of all time. It's definitely
a must-have! Plus, the quality is incredible, it stays for a while and its
texture is dryer than oily, so pretty easy to apply.
Mac: The
little powder brush is also from Mac. I love it! That's the perfect one!
Clinique:
My matifying Clinique powder is also really natural. I like it, because it's
not an heavy one, and my complexion after applying it, stays in the nude
shades. I use it almost everyday with the help of the Mac brush.
Clarins:
Add to the powder, I also use some blush, just for the cheeks. It's simply charming
to have some red shades on its own!
Chanel: My
lipstick Chanel is purple and I like wearing it with my colour of complexion.
The purple colour makes it pretty sober; indeed, it is quite discreet even with
its shades.
Kohl: I
don't use the Kohl pencil that often. Most of the time I don't even think about
it. I'm afraid of those way too black and dark make-ups on the eyes. I like to
stay in natural shades.
Essie: This
nude beige nail lacquer from Essie is also, for me, a must-have. Very discreet
but still, chic and natural, I like to put it on for any occasions.
Bvlgari: I cannot
leave the house without spraying myself with my fragrance from Bulgari, Omnia
Crystalline. I bring this bottle with me, all the time in my purse. I just
adore the smell of it. I have it for ages now, and I guess I won't ever change
for another one!
Enjoy and
have a wonderful day! J