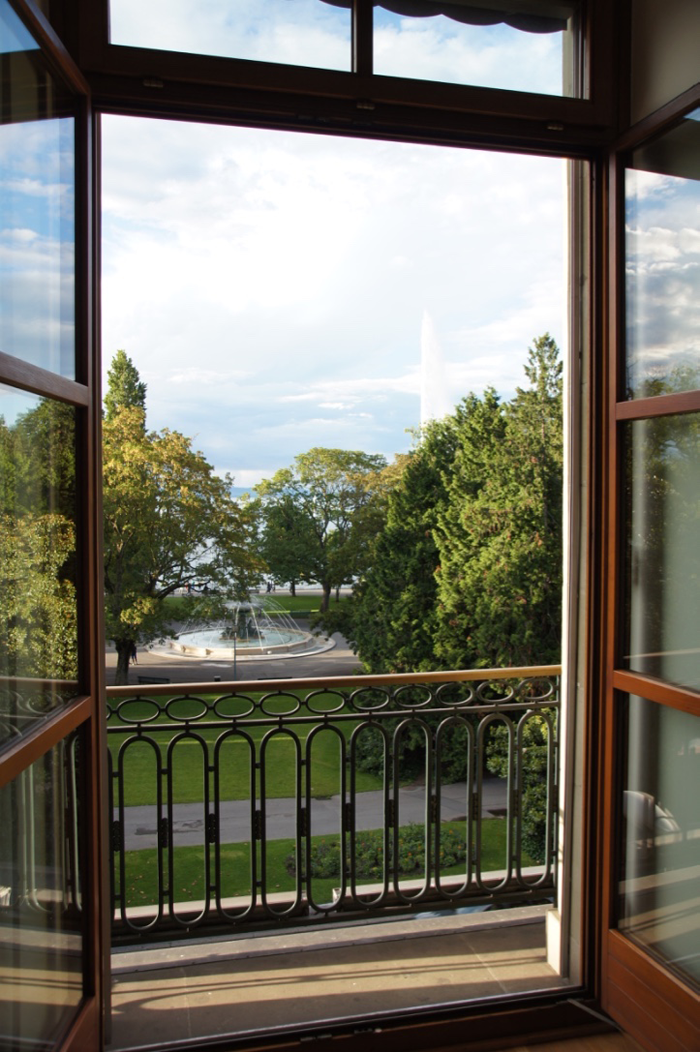 All the Feelings at the Metropole Hotel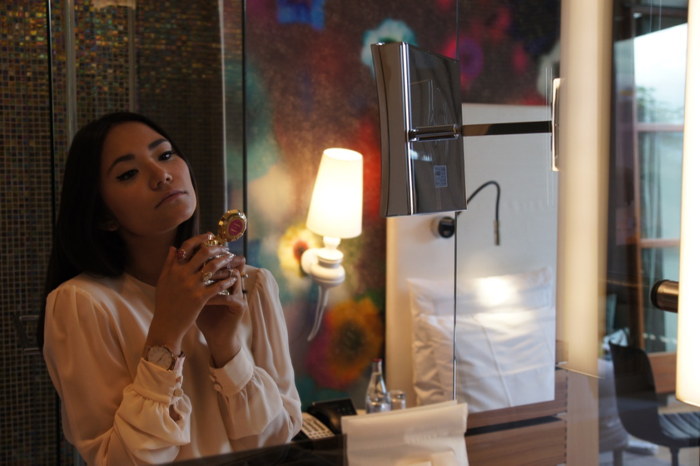 As promised, I am sharing with you, my hotel room at the beautiful Metropole Hotel, in Geneva. It was a wonderful weekend of June, in between my finals, I stayed at the hotel as I was attending a few events in and around Geneva. Forti joined me for the weekend, and we were impeccably received at the Metropole. We slept in a beautiful room recently renovated called, Signature Room. It felt like I was dreaming. The room was warm and perfectly designed. The high ceiling creates spacious room. Located on the second floor, a large and high window offered an incredible view of the Jardin Anglais and its fountain, also including the Jet d'Eau in the background. The perfect coup d'oeil for Geneva! Definitely high-tech, the room fits the connected generations. The mirror includes the TV, which I did not see directly. 
The bathroom is designed with beautiful mosaic walls, mirrors and transparent glasses which makes the room even bigger. It was the first time I stayed in a completely open room counting the bathroom. I surprisingly enjoy it. And for the pudique ones, there are curtains that you can unfold for a more intimate shower ;). Talking about showers, the hotel does not offer any spa, but showers and bathtubs are equipped with hammam… I swear! Isn't this the best thing ever? Having your own hammam shower! Oh yaaass! This was real! Taking a steam shower followed by a cold one after a long night out with Zenith, I mean I couldn't dream best. plus, the product line, Pürovel, was refreshing, soft and simply bringing the best comfort.  
 The cute flower wallpaper is specially designed for the hotel. The famous Swiss textile manufacturer Jakob Schläpfer supplies luxury fashion designers such as Chanel, Louis Vuitton and Vivienne Westwood with silk and  embroidery materials. 
Spending the weekend at the Hotel Metropole really felt like a dream. Lovely staff and great comfort! I am so thankful that I could rest in a beautiful hotel with all the comfort needed in between busy events!
Outfit:
Dress: ODYSAY
Makeup:
L'Oréal Color Riche La Palette
 Atelier Flou Ten Nine Eau de Parfum
Pictures by Fortunat Lüthi