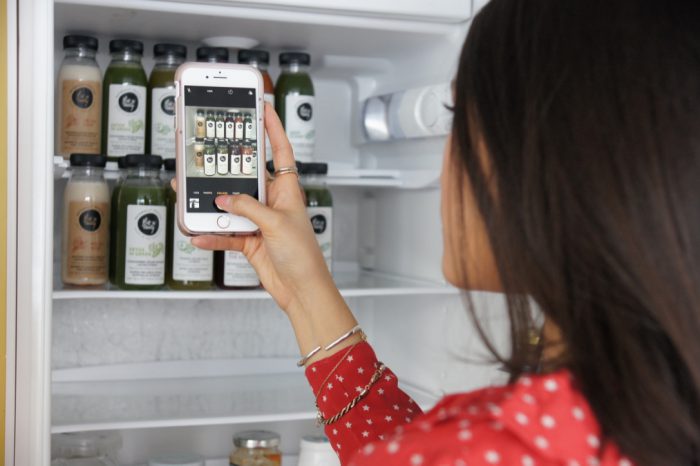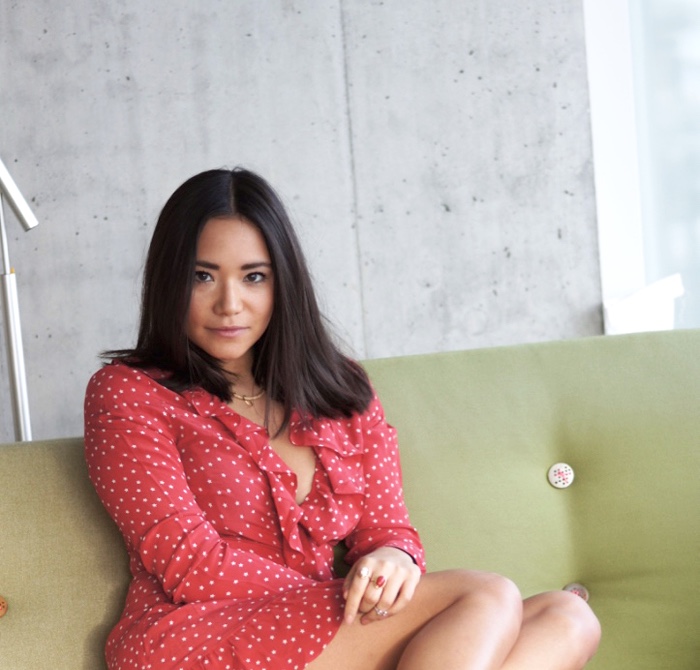 Again, on a detox cure? Yepyep, believe it or not, it is actually good. I did it to start this year on the right foot, I mean, after all, the feast I had during the holidays, I felt like my body will highly appreciate it. To sum up; three days, 21 cold pressed juices (vegetables and fruits) and me, including my very gourmand mind and my noisy belly. You do the math; yes, correct, 7 juices a day. Okay, I'm joking. The purpose was to clean my body, rest my stomach and liver, and detox from all ingurgitated toxins. A detox cure made by Fit'n'Tasty, a Swiss company. I only drank juices for three days. I could drink water and that's it. No food, no coffee or tea – nothing. As I did similar cures (twice) in the past I was not scared this time. After all, it's just a mental thing, right?
Day 1:
The first juice; Fuel Me, made out of lemon and ginger and water was quite strong for the morning. I drink from time to time warm water with pressed lemon, but the cup isn't too strong. The smell was so good, you could picture yourself jumping into a ginger pool while sniffing. I love ginger, but the taste was actually more of lemonade, without any sugar – basically lemon. At first, I felt it like a shot of ginger and lemon. Let me put it in this ways: DA ultra morning boost shot. Then, after sipping, I starting enjoying it. It was not so satisfying as a breakfast though. So, I haven't wait much longer to start with the second juice. I was supposed to drink with an interval of two hours each but my hunger was screaming. Then, comes the second juice; Deep Clean, a green version of the first one. I looked at the bottle, "contains spirulina". I told myself "youpii", I like spirulina, but felt a bit scared though. If you don't know spirulina, it is a seaweed that can remind you the ocean if not well balanced in a smoothie or granola bowl. It is seen as a superfood because of its high tenancy of protein and acids amines. Anyways, spirulina is great and good for the health, but too much of fit can ruin your fruity breakfast, trust me I did experience it. So, the good news was that the juice was surprisingly delightful. The combination of cucumber, spirulina, spinach was not only ending into a green bottle but into a delicious drink.
The following drink are still mixed with fruits and vegetables, carrot, beetroots, selerie, apple, kahle and many others. The best juice is the last one, #7. Sweet with cinnamon and almond milk, it seems like a dessert. What a relief to drink it! Like a baby and his biberon..ahaha.
Day 2:
I am feeling good, start the day following the juices order. Thanks, nobody from my family is at home, so I am not solicited by any food. Said no to friends for coffee or lunch, and just stay at home studying. I am fine; I deal with the juices like a chef. When my belly reminds me to eat, I check the time and (hopefully) it's time for my next juice. I spent a pretty boring day studying, though. Which is good, cause I have no social life so no social commitment, restaurant or bar time. Until, I start checking the demon applications Instagram or snapchat that turn our quotidian into an "Oh, I also want to be at the beach in the Caribbean right now", I am sure you're understanding me, right? Then, your best friend sends you a snapchat. What could she be doing? Oh, of course, it's lunch time and Madame is eating SUSHI at our favorite place in Lausanne, the Myo Sushi bar (FYI: 14 Gault&Millau, so you imagine the quality of their food. The usual, I wrote her a little "hater" text, how could you…. Ahhaha Anyway, she enjoyed some good food and I was happy for her, just a bit jealous ;), who wouldn't be?
Day 3:
LAST DAY! I am happy cause I just have one day to go. I still feel great. Start the day as the two previous ones – with Fuel me. I am still alone and still studying and saying no to social life. Pretty boring student while detoxing with a cure – you got it, a boring day. I follow the order; drink juice after juice. The hours passed and everything is fine. Until, again, I saw some Insta aka super cute food flatlays pictures. When it isn't sushi, it's probably sweet treats, avocado toasts (so cliché) or Vietnamese food. But anyway, I like, like a lot, and throw my phone onto my bed (far away from my sitting desk). It's better for my mood and my studies anyway. At the end of the day, I am just glad to drink the last sweet juice, and dream of my upcoming breakfast and lunch. Oh yes, you might have seen it, on the following days after my detox, I was invited to lunch at the Loti, restaurant in La Réserve Hotel in Geneva. How could I come back in the food world in a better way? Right, there isn't other way. The thing, was that I was supposed to manage my body and not jump back into FOOD. But I couldn't (and wouldn't have) said no to this lunch anyway. It was an amazing explosion of subtile taste and couldn't be happier to chew something after the cure.
You need to know, that I did not do it to lose weight, there are probably cures with this purpose, but it was not mine. I did not weight myself, and I could tell you guys (some of you wrote me) If I lost Kilos. Hopefully, I did a bit ;), but I guess gained them again after my yummy lunch at the Loti. The point was to detox my body from any toxins that I did eat and rest my stomach, liver and so on. I did not feel in a bad place, I just missed food in general and the fact of chewing something. The juices were really good (NO KIDDING HERE). Even though 250ml seemed pretty small at first, after the 7 juices, don't worry you would not need more. The taste are good and the mix is well done, cause I have never had a feeling of; I have too much of this drink. I am happy that I've done because I felt great, I felt doing something good for my body, and felt proud of myself for doing it 100% and not cracking under social beautiful photographs envy. I highly recommend doing a detox cure from time to time it really feels good. Energized and light, it's surprising.
Juices: from Fit'n'Tasty
Outfit:
Dress: Réalisation
Pictures by Fortunat Lüthi