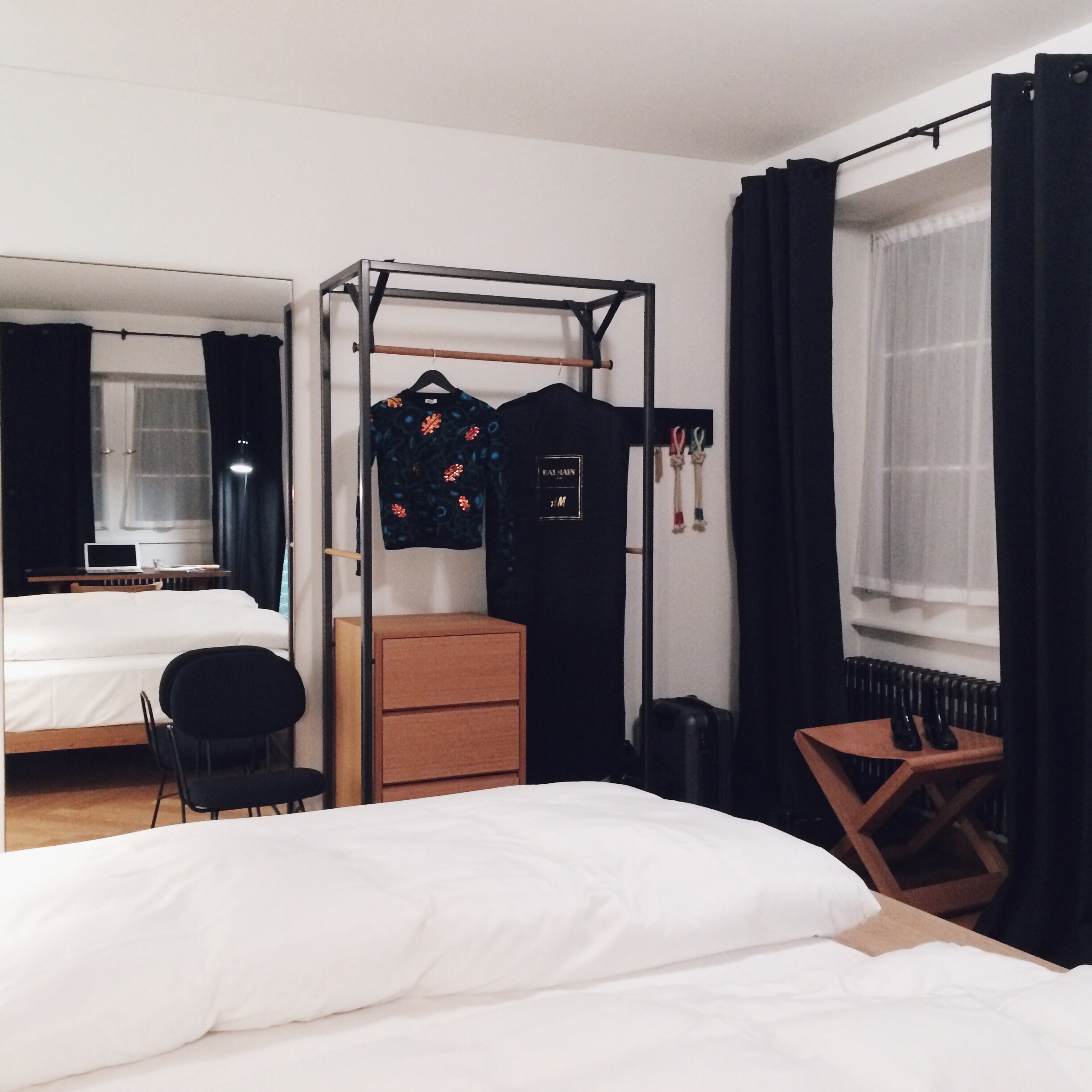 A Night at the Marktgasse Hotel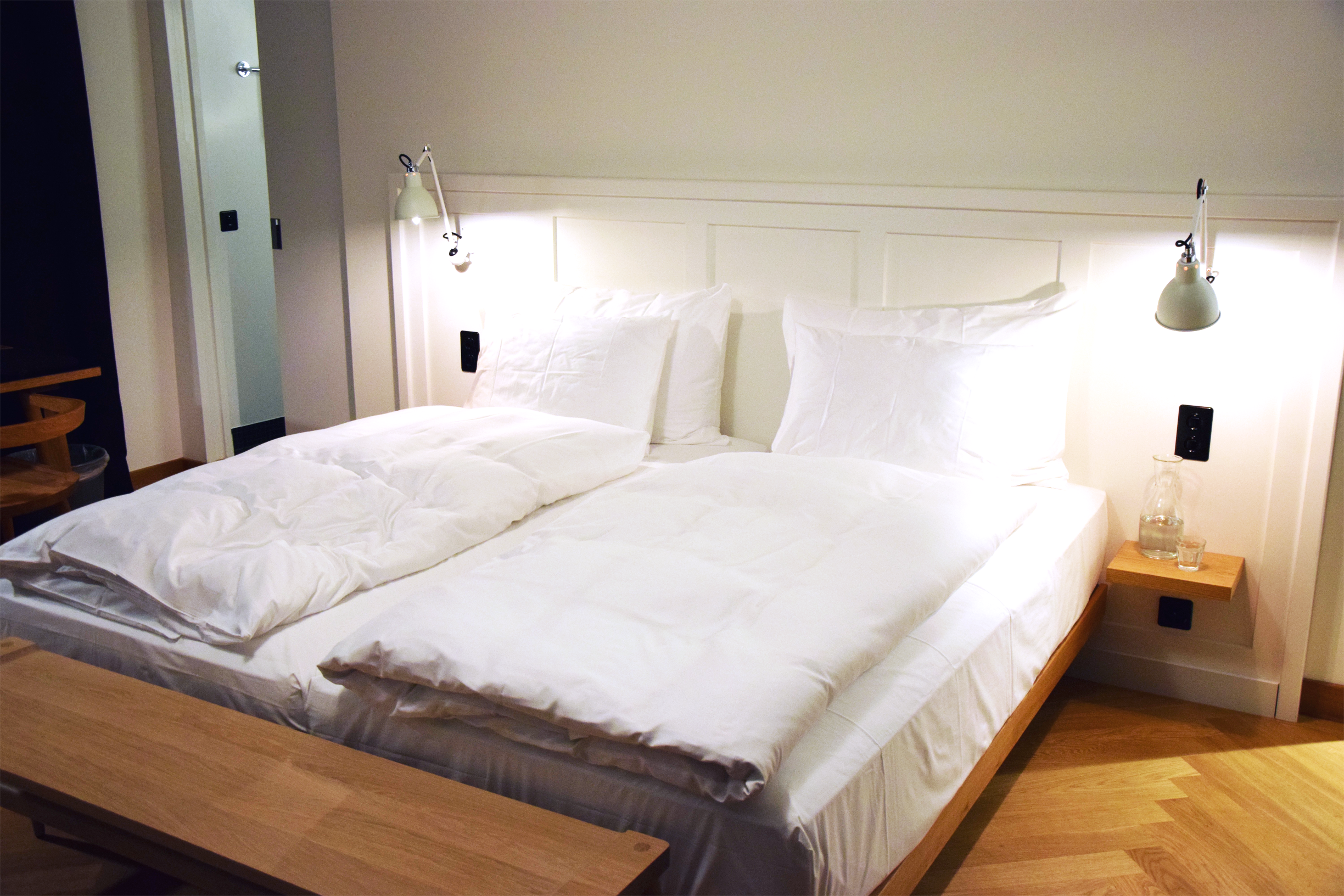 If you are a COS lover, you might have heard or seen something happening for the past years just in front of the shop in Zürich. A brand new Hotel, the Marktgasse Hotel, has taken place and just opened its doors in the lovely neighborhood called Niederdorf. We all know Zürich and all the beautiful hotels that the city offers to her travelers, but the Marktgasse Hotel has something special to me. It is a Boutique Hotel with 39 rooms, which are different from each other and designed in a very personal way according to each plan of the room. For two years now, I have mostly checked in through Airbnb apartments, because it is way more about people and personalities. My night spent at the Marktgasse Hotel made me feel exactly like if I were at home and this is everything to me.
 The room in which Fortunat and I checked in is so cool. The furnitures are mostly designed in a minimalistic way, kind of inspired from Scandinavian style. I especially love the edgy design of the clothes rack. The room is quite big with a king size bed (so comfy!) right in the middle, a desk and a vintage styled armchair. We turned on the TV (mounted on the wall) for listening some jazz music while getting ready for dinner, otherwise we would not really watch television. The bath room is very spacious with a large shower, and enough space to pamper yourself next to your boyfriend. I loved the retro black&white tiles and the incredible round mirrors slash lamps. Another awesome thing about the hotel, is that all the restrooms and bathrooms are supplied by the Aussie brand, Aesop, which I looove. 
Something that I would not use, but which made us laughed is the little screen in order to see what is going on in front of your door, or who's ringing the bell. So, we decided to film a little video with this gadget ;). 
The bar and restaurant of the Hotel, called Baltho Küche(kitchen in german) & Bar, have the best style ever. The bar has this special and retro ambiance with green leather seats and softened light, which remind me bars from the 50's, directly out of the famous TV show, Mad Men. Having a drink there, surrounded by chic waiters wearing bow tie and white shirt, will definitely transport yourself to another epoch. The food is incredible, a subtile combination between traditional swiss dishes and trendy asian recipes. So, if you are in the old town of Zürich and you would like to eat special and delicious meals, just stop by the restaurant Baltho&KücheBar you won't regret it! Oh, and if you are quite in a hurry, you should try their super healthy take away offers for breakfast or lunch, at Delish, which is more the easy going place to grab some snacks. 
I just spent a lovely night and moment at the Marktgasse Hotel, and this evening made me remember good moments spent and enjoyed with Fortunat in Shoreditch, London. The kind of atmosphere that I love, personal, edgy and super cosy. Not many places in Switzerland remind me good place abroad, believe me that's a special one ;).
For more head over to the Marktgasse Hotel website: http://www.marktgassehotel.ch
Pictures from Fortunat Lüthi